Like the last couple of years, Lambert Rebreather Technologies http://www.frogdiver.com/ attended the show, exhibiting the Frog rebreather. This time they shared the booth with O2 Dive Technologies http://www.o2divetech.com/ , also displaying their joint effort, the Tiger CCR.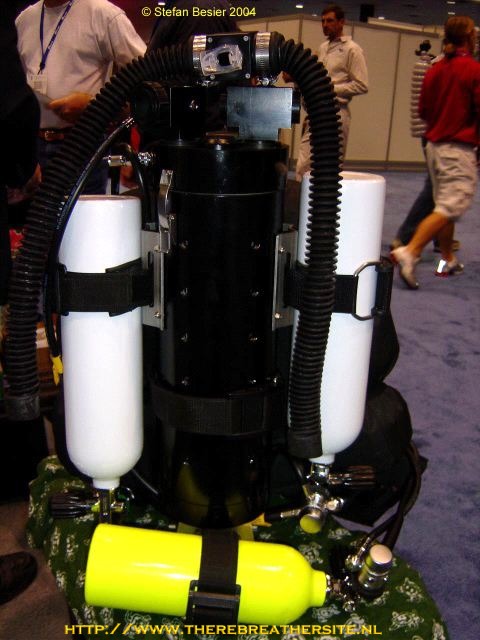 LRT's Frog rebreather is semi-closed circuit rebreather, usually configured with twin tanks mounted to the cylindrical body of the unit. An additional bailout tank can be mounted to the stand which keeps the Frog quite stable. The single counterlung is encased, and a number of round openings around the body allow it expand and contract.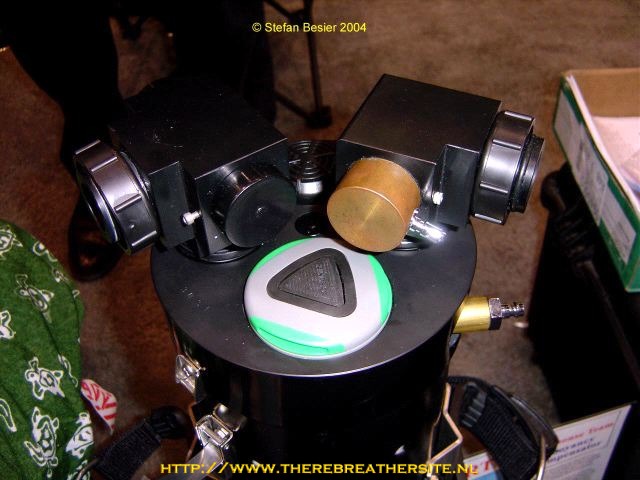 The head secures to the body with two metal latches. The two connectors on top swivel sideways to increase comfort by moving with the breathing hoses. The exhale side is on the right of this picture and features the adjustable constant mass flow
(CMF)
needle valve. The quick connector for the gas supply is safely positioned between the diver and the block its mounted on. The recessed and covered screw adjusting the gas flow can be accessed form the backside.

The inhalation block, seen on the left in this picture, allows for two sensors to be added to monitor O2 contend, one on each side. Between and behind the two the adjustable over pressure relieve valve is visible. In the front is a demand valve used for automatic gas addition. It also comes with a quick connect, this one routing the hose between the diver and the tank.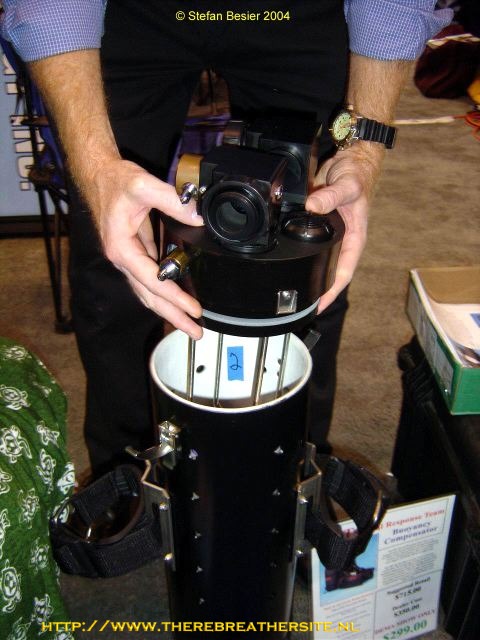 The head being removed from the body.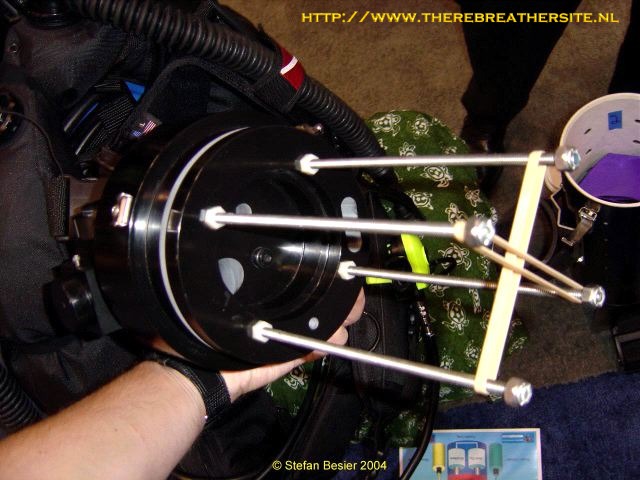 The four stainless steel rods hold the scrubber in place. In the background the body can be seen, with the purple counterlung inside. The counterlung is placed around the rods and sealed to the head, the scrubber is inside the counterlung.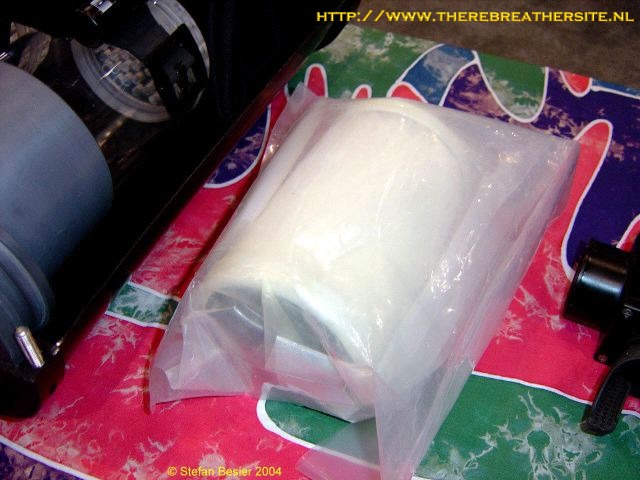 Absorbent comes in pre-packed cannister containing the granules, and a refillable cannister is optional.
This is one of the pre-packed cannister.

The Frog SCR can be configured in a variety of ways. Usually as an constant mass flow-SCR for use with premixed Nitrox as shown here. In the documentation on LRT's website the Frog is shown with separate O2 and diluent gases, a practice confirmed at the show. O2 is plumbed into the cmf valve, its flow controlled by opening and closing the tank valve. Using the Frog as a CCR is also possible, also the company has moved on to the Tiger CCR for that. By closing the OPV down and plugging O2 into the ADV the Frog can be used as an O2 rig.

Training and certification for the Frog and upcoming Tiger CCR contact http://www.frogdiver.com/

Thanks again stefan!!
25-10-2004